Offer
Aleksandr to work on your next project.
Kyiv

,

Ukraine
3 hours 19 minutes ago
available for hire
42 Safe completed
21 days 2 hours ago
35 Clients
age 33 years
registered for 7 years
Rating
Search engine optimization
Language Proficiency Level
Українська: fluent
Русский: fluent
English: intermediate
CV
My name is Alexander, and I am your reliable partner in the world of web development and SEO promotion.
🏠 Location: Ukraine, Kiev (Boryspil)
🛠 Specialization: SEO, Web Development on CMS Wordpress, Dropshipping
📅 Industry Experience: Since 2000
About Me
Since 2000, I have been actively involved in web development, SEO promotion, as well as market and demand analysis. Over time, I've acquired valuable experience and skills that allow me to implement projects of any complexity.
Achievements and Projects
2014: Founded the ready-made website store Top-Bit.biz. The store is still successfully operational and continuously growing.
2017: Received a certificate in SEO promotion and mastery of CMS Wordpress. The authenticity of the certificate can be verified here and here.
Recent Years: Launched a new project BuyReadySite.com and developed the AI SEO AutoOptimize Pro plugin for Wordpress, focusing on the internal SEO optimization of posts and products.
Specialization
SEO Promotion: Main focus on SEO optimization. I utilize modern methodologies and tools to achieve maximum efficiency.
Web Development: Professional proficiency in technologies such as JS, PHP 8.1+, and CSS. Development of websites and plugins on Wordpress.
Ready-made Online Stores: Development of fully operational online stores for dropshipping.
My Certificates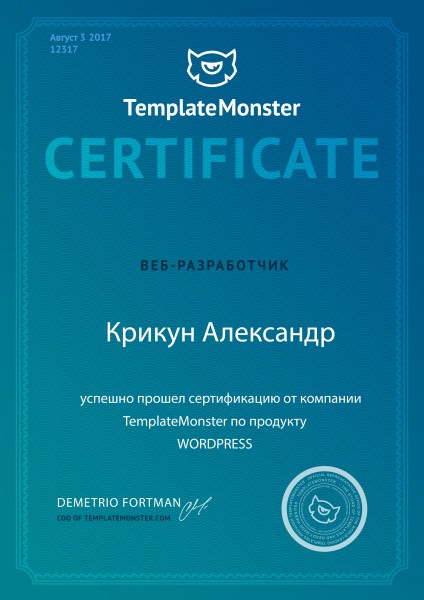 Portfolio
Description of the Project
AI SEO AutoOptimize Pro is a new and promising plugin created to automate the internal SEO optimization of WordPress sites. The plugin was designed for those who want to simplify and speed up the optimization process without sacrificing quality.

My Role
… -Requirements and Concept Analysis: Identifying the need for automated SEO optimization for WordPress.
-Development: Writing code in PHP 8.1 and JavaScript, using best practices and standards.
-Testing and optimization: Conducting tests to ensure the reliability and security of the plugin.
-Support and updates: Developing a plan for regular updates and 24/7 support.

Technologies and Tools
-WordPress
-PHP 8.1
-JavaScript
-CSS

Main advantages
-Speed and Simplicity: Automate most SEO tasks.
-Adaptability: Compatible with various WordPress themes and plugins.
-Security: Application of modern data protection methods.
-Support for the latest standards: Designed to meet the latest requirements and standards in the field of SEO.


247 USD

Website development

Complete update of the site. Change of template and reinstatement. Cleaning and optimization of the base. Optimize the speed of the site.


143 USD

Search engine optimization

Internal optimization of the site. The work was carried out only for a month. Growth is shown on the screen.


220 USD

Website development

Update of the old site. They moved to the other core, set the multidisciplinary, set the blog. It was a simple one-sided one before.


357 USD

Website development

This site was developed from scratch, made full SEO optimization and optimization of the speed of the site, optimized the images. The site should be informative and easy at the same time. Do recommendations on the promotion of the site and performed SEO optimization of the site. The website has two languages and all are localized. Separate methages are written in the second language.


450 USD

Website development

Complete development and optimization of the site


137 USD

Search engine optimization

An example of the results is promoting only through quality internal optimization without external influence.


14 USD

Supporting WordPress sites

Website maintenance

Completely accompanying websites in WordPress


500 USD

The hotel network 365

Search engine optimization

Full promotion of the project. The work has been influenced as recommendations of the jurisdiction (now in the work plans), internal optimization (now in the process) and other work.
In 2 months after the start of the work we approached the main requests in the top 20, some came out in the top 3. Total traffic and other indicators show confident growth.


2000 USD

Website development

Shop development and SEO optimization
The store was developed by drop-shopping technology on CMS WordPress.
The site uses a system of base swing with the supplier base and adding goods with SEO optimization. Connecting the payment system.


687 USD

Search engine optimization

SEO optimization and initial phase of promotion, as well as website development and concept


137 USD

Search engine optimization

Comprehensive SEO optimization of Oreol-1's website in two language versions


412 USD

Online stores and e-commerce

Development of the site, setting a system of synchronization of the goods with the supplier base. Automated SEO optimization. Professional SEO felbn


SEO and SEO optimization of the website. Pre-Audit SEO to identify problems and fix them as part of optimization.


41 USD

Search engine optimization

Surface SEO optimization of site. Scribe the main Title and Description under the pages and the main sections of the site. Writing the SEO optimization template under records that come automatically or manually

Reviews and compliments on completed projects
42
The task is fulfilled. Responsible execution. Always in contact.

Sergey Larionov | Personal | Response feedback